One of the most important lessons that I've learned after start and fail serveral projects is lack of Standard Operating Procedure. Basically it's a collection of documents and step by step checklist for every aspect of your business which make everything go with right direction from beginning. Launching a new WordPress site need checklist too!
If you treat your blog as a business it must has SOP. I share my checklist for every new WordPress website in order to make it clear and have best practices when start line. One of my SEO project which rank top #1 Google in just 2 months is follow this checklist as well.
Sometime I setup new site by myself, sometime I outsource and sometime I give it to new team member to handle it depend on what level of project. So I used Evernote to keep my checklist but now I want to share with everyone because I truly believe the more I give the more I'll receive later.
Here is my WordPress launch checklist for 2019
This is a very long article so if you don't have time to follow it now just download this Checklist PDF version to read later.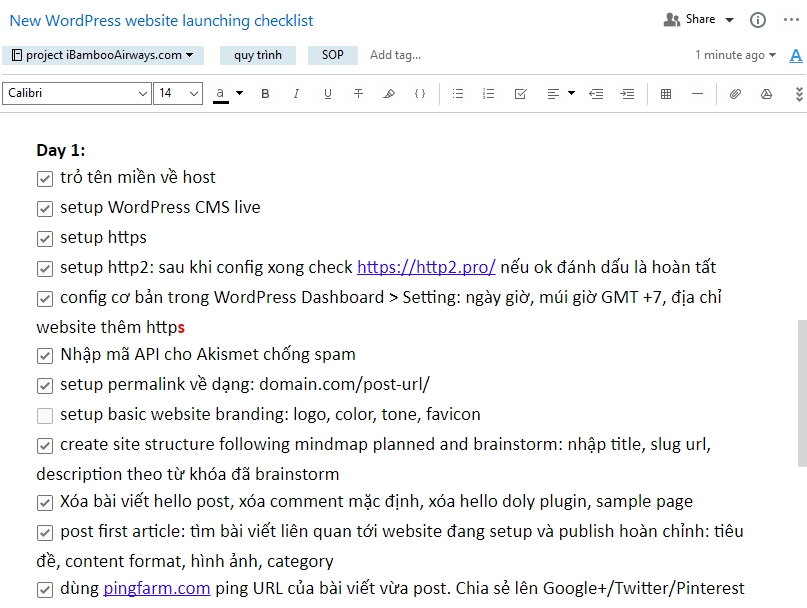 Let's go!
Before launching new WordPress project
Do Niche research carefully;
Estimate traffic from keyword and niche research;
Pick a good domain: Namecheap is my choice for register new domain with free Privacy Protect feature;
Choose your host wisely: Hawk Host is good start;
Pick a good WordPress theme: I use GeneratePress & Publisher theme;
Organize project folder: branding assets, planning files, PSD files, Site Structure file;
Basic Setup WordPress
Point domain to host
Setup WordPress installation
Config SSL + http2
Basic WordPress config: title, description, date time format, permalink structure, disable pingback trackback
Install and Activate Akismet plugin to anti spam
Install and Activate WordFence: for monitoring bruteforce attacks, security problem
Install and Active WP-Sweep plugin: database optimization
Install and Active JetPack: site stats, subscribe, performance improve and more
Install and Active Classic Editor plugin: if you don't like Gutenberge too!
Permalink structure set to https://yourdomain.com/post-url/
Setup basic website branding: logo, favicon, color scheme, typography, layout
Create Site Structure for SEO: follow keyword research step before and mindmap/sheet files
Delete unnessary stuffs: sample page, sample comment, sample post, Hello Dolly plugin
Submit sitemap to Google Search Console (former Google Webmaster Tool)
Add your Free content protection with DMCA here
Setup Mailist funnel: Mailchimp, ConvertKit or Jetpack
Tracking Setup
add Google Search Console;
add Google Analytics;
add Bing Webmaster Tool;
add Social Share button: I use Sumo;
add Heatmap tracking: I use Hotjar;
SEO Setup
Install Yoast SEO plugin;
Config Yoast SEO;
Check robots.txt and sitemap working or not;
Setup redirect;
Create Tag and Category: title, slug and write description for them thoroughly;
Social Network Setup
Create main Social Network Profile: Facebook, Twitter, Pinterest, Instagram, Youtube, Google+;
Web Performance Checklist
Setup Content Delivery Network;
Optimize Google pagespeed score: check my detail guide here;
Install lazy load plugin;
Install cache plugin;
Install image compression plugin: use this free plugin;
After launching
Publish your first ever article on this website;
Submit above article to pingfarm, Google Webmaster Tool;
Send this article to Social Network you've created above;
After launching 1 week
---
I update more detail step by step checklist soon. What is the problem you are facing while setup new WordPress site? Comment below I'll help and update into checklist above!